Men's Sportswear Market Trends in the US Region-(2024-SS)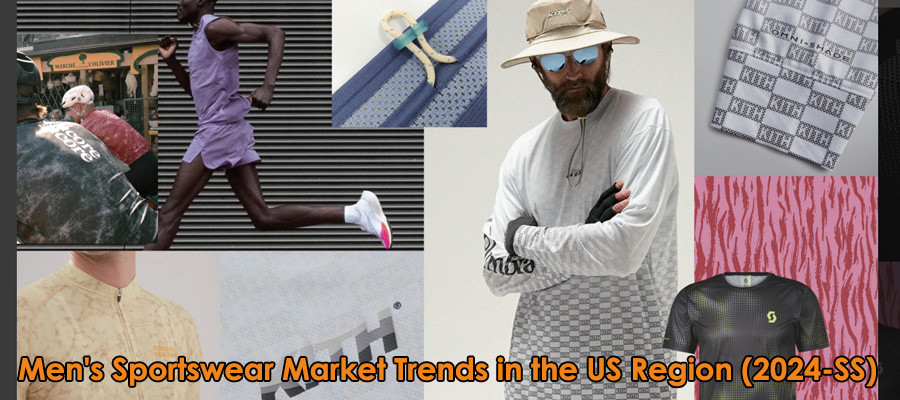 Sportswear accounts for nearly a quarter of overall men's apparel online and is a category to watch closely. Functional, outdoor, travel and gradient colors are the focus of this season's e-commerce and brick-and-mortar offerings, and for influential brands in the U.S., it's helpful to know what's trending in the market to help you source athletic apparel, so here's what HUCAI has learned about the U.S. athletic apparel market:
What are the trends in the U.S. sportswear market?
Sportswear consumer demand for functional and comfortable casual wear will continue to hold up in 2024, shorts have become a hot item, sportswear retailers are investing more in them, their full price break rate has increased slightly, followed by outdoor training combined with casual closet trends, making jackets a key category for men's sportswear, retailers have begun to invest in the product, and make it the fastest-growing category; Outdoor Trends The outdoor trend continues to grow, with overalls trending upwards in the sports pants category online.
Why is HUCAI the right supplier for US sports brands?
HUCAI, as a professional sportswear supplier, will be dedicated to provide you with excellent OEM and ODM services, and have the ability to reproduce quickly to help you seize the market opportunity. We specialize in doing mid-end and high-end sportswear market, serving the US sports brand side.
One, as an expert in the field of OEM and ODM, we have advanced production equipment and technical team, which can quickly respond to your needs and provide customized solutions. We know how fast the market changes and how fierce the competition is, so we will meet your requirements with faster response time.
Secondly, we are committed to providing fast reproduction capability to meet your needs for specific designs or styles. Whether we refer to existing popular styles or replicate them based on samples provided by you, our team will ensure that each product will fit your requirements. We pay attention to detail and quality control to ensure that your brand image is presented in the best possible light.
Thirdly, our design team will keep up with fashion trends and market trends to provide you with high quality and original design solutions to help your brand stand out. The men's sportswear market is becoming more diversified and personalized, and we can help brands design men's sports shorts, men's sports T-shirts, men's sports jerseys, men's sports jogging pants and so on.
In this highly competitive market, we are confident that by working with us, you will be able to quickly capitalize on the Spring/Summer 2024 men's sportswear market. Choosing us as your supplier, we will provide you with fast reproduction capability, high quality OEM and ODM services, and professional salesman support. Let's work hand in hand to realize business success together!