Factory Service
Hucai is a Manufacturer of Bulk Production Men's Sportswear
As one of the leading sportswear manufacturers in China, we assist established sports brands in expanding their apparel product lines, making us your most capable sportswear supplier!
HUCAI has been established since 1998 and is now a highly productive and high rate manufacturer. We are able to produce 100,000 pieces of men's sportswear per month. We can offer you fast and accurate production time. It takes only 12 days for sample production and 35 days for large orders, and we have dedicated staff for tracking and quality inspection throughout the process to ensure high quality and on-time delivery.
We have a variety of processes for the production of men's fitness clothing, such as: screen printing/heat transfer/sublimation/silicone/embroidery/decal/laser cutting/washing process/direct injection/tie-dye.
1998

24 years

100000

Monthly output

12

Time of Sample

35

Time of Bulk order
Customer Service
Hucai Provides Customized Solutions for Brands, Influencers, and Fitness Bloggers
We pride ourselves on providing excellent service and quality private label clothing to our customers.
If you are a brand, the first concern must be quality, and Hucai's strict and experienced QC team performs 5 rigorous quality checks on raw materials, printing or embroidery, sewing, ironing and packaging to address your quality concerns.
If you are an Internet celebrity or a blogger, then the speed of transportation must be your important concern. We will provide you with the advice of ordering time according to your sales plan, so that you can avoid the trouble of supply chain and better cooperate with your sales.
Customized Service
ODM&OEM Customized Service
Hucai provides customers with a one-stop foreign trade solution for all kinds of men's sportswear.our design team has the skills and creativity to bring your vision to life.
The world of customization options proves that everything you can imagine in the perfect outfit is possible, and if you have customization requirements for your sportswear, from garment design and customization to labeling and packaging, HUCAI is able to provide you with an all-in-one solution.
Therefore, there is no need to worry about your clothing color, size, the type of fabric you need, any pattern, detail and structure you want will be through craft, printing, embroidery and so on, we can meet your personal customized requirements.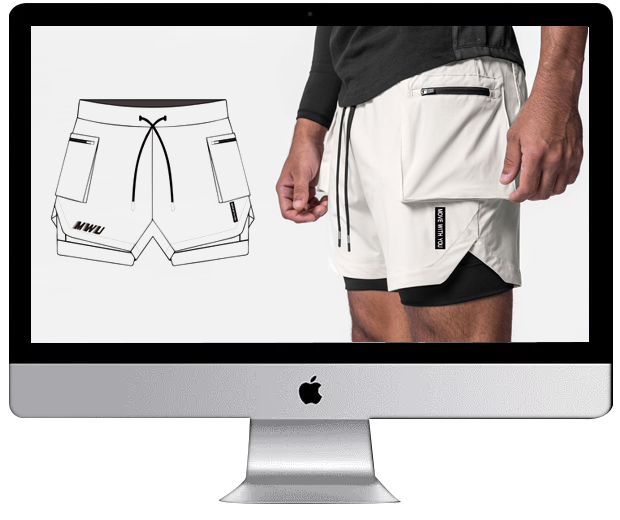 Design Service
HUCAI Private Designer Service
If you don't have a design kit or draft, just give us your clothing ideas and design concepts, and we can turn your ideas into actual clothes.
We set up a special design team to help customers who do not have design samples to design clothes. Designers have more than 20 years of experience in fashion design, and can very good grasp the popular elements of the men's sportswear market, combined with your brand concept and ideas to design the most in line with your design, for your reference and choice.
Customer Reviews
What Our Customers Say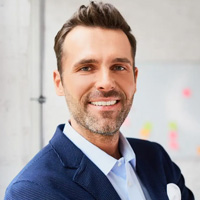 I am a brand owner, quality is a very important key for me, so I pay special attention to a good quality inspection and design, etc. Hucai provides high quality fabrics and mature technology, which is also the reason why my clothes sell well. During the cooperation with Hucai, product quality and logistics transaction security are guaranteed, which is of great help to my brand.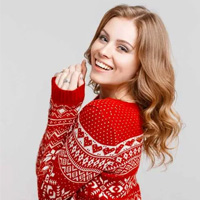 After three years in the social media's social acceptance, we want to through the web celebrity status to further provide a more positive way of life, after the salesman to communicate with them, I have customized my men's sportswear, under the support of the HUCAI, we quickly set up its own brand, and maintain a long-term, stable relations of cooperation. Their salesman is very patient and professional to answer my doubts, try their best to meet my requirements, let me very happy!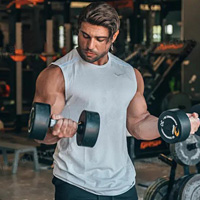 I am a sports and fitness blogger, and I started my fashion men's sportswear product recommendations a few years ago at the request of everyone. I started working with Hucai on a friend's recommendation. I always like their customer service ability and product transportation ability. They will purchase the best fabric and send different color samples for me to choose. In addition, Hucai helps us to recommend fashionable and fast drying breathable fitness clothes and help us to derivative related products.
Free samples for private sports brands with over 50,000 followers.
We only offer free samples for a limited time! Don't miss this opportunity to expand your scope and grow your business. Contact us now for a free sample!
What does HUCAI charge for sportswear samples?

Here are HUCAI's sample charges: (excluding other process printing costs) Short sleeves, tank tops : $50 /pcs Sports bra, leggings, pants, shorts, long sleeves : $70/pcs Sweatshirt, jacket : $80/pcs

2023/6/9 15:41:47

Can I order a sportswear sample before ordering?

Of course you can! Before ordering, you can check our quality, size and color by ordering samples to ensure your complete satisfaction. In addition, if you need special design customization services, we not only have excellent design capabilities, but also can provide you with customized services, please tell us your needs, we will do our best to provide you with the best solution.

2023/6/9 15:18:18

What is the Minimum Order Quantity (MOQ) for sportswear?

Our minimum order quantity is just 100 pieces per design for sports apparel companies and brands around the world.mixed with 1 color and 4 sizes to meet the needs of more new and old customers and combine our own production.

2023/6/9 14:54:24

What are your logistics models, prices and timeliness for the US and Europe?

Tell you that we provide logistics express, the best guarantee that your sports clothes arrive at the destination safely, reduce unnecessary trouble.

2023/6/9 14:55:44

How long is your bulk order&bulk sample production time?

Sample production time is about 12 days, and our bulk order time is about 35 days. Our time needs are designed to ensure that high quality products are produced in the shortest possible time and delivered to you quickly. Please tell us what your purchasing plan is. We sincerely look forward to working with you!

2023/6/9 15:24:42

Does HUCAI only produce men's sportswear products? Can you customize women's sportswear?

HUCAI custom sportswear for men and women,you can come to us and we have a variety of options for you to choose from.

2023/6/9 15:10:18
HUCAI is a supplier specializing in the design, customization and production of men's sportswear. Our design team is creative and inspirational, and we believe that our ability to design and master the latest market trends can provide you with the latest design and category solutions that can provide a better boost to your brand value. We welcome inquiries from brands, netizens and fitness bloggers, and we look forward to working with you!To get free samples or more discounted offers, please do not hesitate to write down your request! We can achieve greater success together!
Please pay attention to the email with the suffix "@hcsportswear.com"or"@fcsportswear.com".