How to choose the right fabric for your sportswear: 5 Simple Methods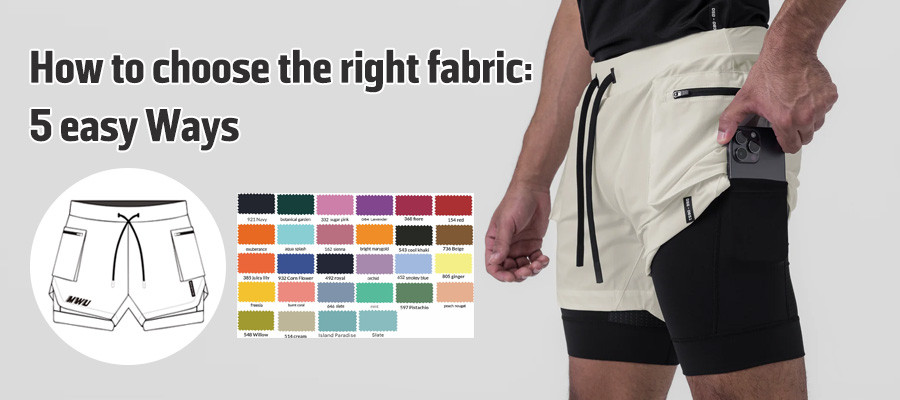 Choosing the perfect fabric for your clothing line is as important as any other aspect of creating a clothing product. In the case of sportswear, the fabric gives it feel, comfort and durability. Can you imagine a piece of fabric made from a low-quality material and convincing a customer to buy that garment?
It would be a tough sell due to reduced quality, less durability and no promising features. Therefore, this blog focuses on the accurate selection of fabrics.
This article provides some guidance on fabric selection tips to help you understand the importance of materials and what to focus on when deciding on the ideal fabric for your sportswear needs.
Buying fabric can be a bit confusing due to variety and quality testing. However, there are a few things you can look for when purchasing materials to end your confusion and make the right decision. You can use some simple tips below to choose the perfect material for your clothes.
1. Quality check
The best way to test the quality of the fabric is to feel it on your skin. It is easy to recognize the quality of cotton, linen, polyester or nylon if it is soft and comfortable to the touch. In addition to this, check if the fabric is free from blemishes, as blemishes can give great defects and low durability to clothes made from such fabrics.
2. Fabric weight test
Fabric weight is measured in grams per square meter (GSM) and varies between 60 and 700. GSM indicates whether the fabric is light or heavy. You can measure the thickness of the material and recognize the difference between light, medium or heavy materials.
An important thing to know is that a higher fabric weight does not always mean it is of good quality. Before relying on the value of GSM, you need to check its sustainability. In addition, different types of fabrics have different GSM measurements. This means that each material can have a different value.
Therefore, you need to have a better understanding of the grams per square meter or the correct weight of the material.
3. Check the fabric texture
If the grain is not as expected, it can cause major problems in the manufacture of clothes. Therefore, you need to eliminate the risk of wrong texture in fibers to avoid complications when sourcing fabrics for your clothing line.
4. Tensile testing of fabrics
Checking the tensile ability of a fabric is not difficult. All you need to do is take a ruler and stretch 5 inches of fabric over it. Hold one end of the fabric at 0 inches and stretch the other end until resistance begins to appear. Finally, divide the result by the length of the original material.
For example, if your fabric stretches to 7.5, its tensile strength will exceed the original length by 2.5 inches. Your tensile result will be 50% stretch.
5. Shrinkage Testing
When selecting materials for your apparel brand, check the fabric for shrinkage defects. You can cut your chosen fabric into pieces and wash it several times. If it loses its elasticity, length or quality, then the fabric is not suitable for you. Alternatively, you can opt for a shrink-proof fabric as it will not bother you. Such materials are labeled as mercerized or pre-shrunk.
Choosing clothing fabrics is very important for conducting a clothing business. It can be said that the whole business concept is based on the quality of the product which comes from the best material. Therefore, you need to know how to choose fabrics. This is where it is important to work with a sportswear manufacturer who is familiar with fabrics and has a stable fabric supplier, this will minimize your cost of making mistakes, HUCAI will give you the best choice of fabrics for your garments, you can order samples first to check our fabrics and quality. Click here to contact us now!
FACEBOOK:Hcmensactivewear Hucaiactivewear
E-mail: admin@hcsportswear.com