The essential sportswear for men's fitness ——Dry fit T-shirt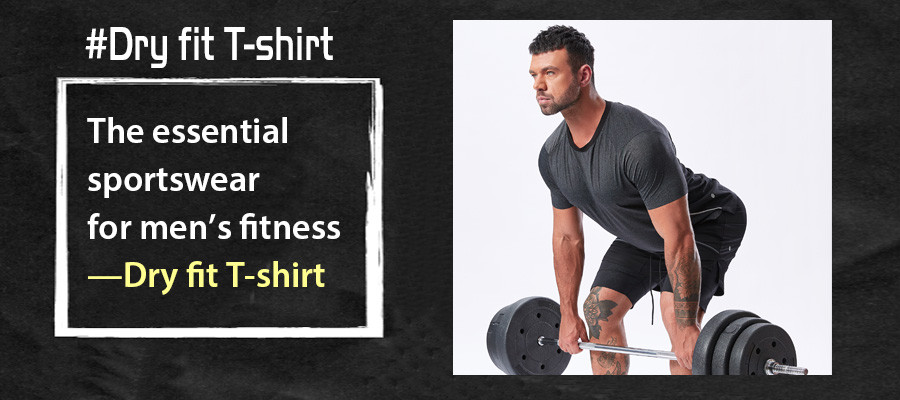 Fitness has become a popular lifestyle for contemporary people. People who work out know the importance of workout clothing. Men's workout clothesdirectly affects the fitness people feel when exercising, and proper workout clothing can keep one moving efficiently.
On the contrary, ill-fitting fitness wear can make people feel tired and even find it difficult to stick to the exercise. Fitness people who exercise a lot will sweat more. So how to choose suitable fitness wear?
If your brand lacks such flattering and comfortable workout clothing, then you must read the following.
A dry fit t-shirt is your first choice of essential fitness clothing, and it fits perfectly with the previously mentioned features. When a fitness person has a dry fit t-shirt, exercise will become much easier.
1.What is a dry fit T-shirt?
A dry fit T-shirt is a blend of synthetic fibers like polyester, spandex, and elastane. Its high-performance construction supports the body's natural cooling system by wicking away sweat and dispersing it to the surface of the fabric to evaporate faster.
It is lightweight.
We know the fact that what you wear to your workout sessions has a direct impact on your performance. If you don't feel comfortable, you won't be able to concentrate on your regime. Because the dry t-shirt is light, you don't feel any weight in them, so that can focus on your workout, and your performance will be optimally affected.
It is breathable and sweat-wicking.
Because it's made of special fabrics, unlike ordinary clothes, the dry fit t-shirt don't only soak moisture but evaporate the sweat so that they can feel dry all the time. You can keep clean and fresh in it.
It is fitted and stretchy.
As you perform a series of workouts, you are always moving, stretching, jumping, etc. A dry t-shirt is stretchy and can help your body move flexibly.
So when you wear such a T-shirt to exercise, you don't need to worry about sweating, ill-fitting and other problems.
2. Suitable for some occasions.
The dry fit T-shirt retains a casual style. Weight rooms, spin classes, yoga mats, and running trails around the world are where these synthetic fabric blends often pop up. But it is no longer limited to being worn on sports occasions, it can also be on other casual occasions, in coffee shops, on dates, and at work. Therefore. The dry T-shirt can be a fashionable and wearable item.
If you are looking for a manufacturer to customize your products with high quality, choose Hc activewear, because we have a great R&D team and can provide you with traditional or trendy clothing. And if you have your logo and design, and want to find a reliable OEM to produce it, choose Hc activewear, because we have high-end equipment and advanced technology to find the most suitable production methods for your design.
You can buy dry fit T-shirts at competitive prices at Hucai hcactivewear. If you want to know more about our product-related services, you can send us your requirements and we will give you a satisfactory answer as soon as possible.Please contact us for more information
Contact information:
E-mail: admin@hcsportswear.com
+8613602338395