How to customize high quality sports bra?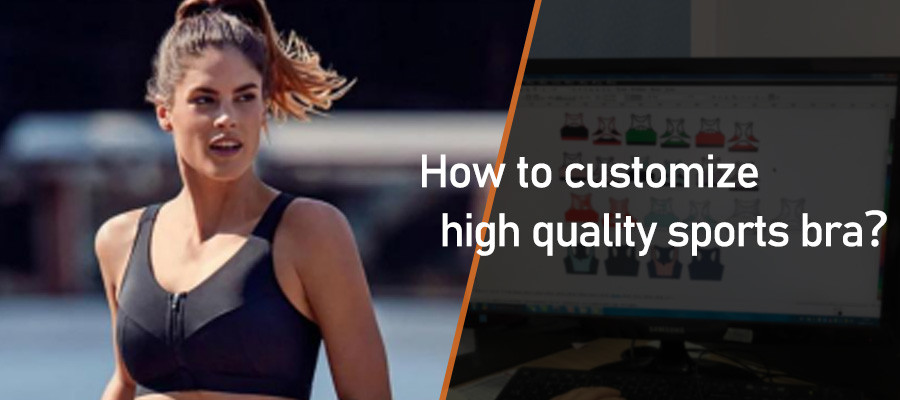 Any sport is inseparable from professional sports equipment, especially for women who are keen on fitness. Due to the special physiological structure, a beautiful and comfortable sports bra is definitely a sports standard!
Sports bra is not just a patent for big-breasted girls, even if you are an A Cup, you cannot ignore its importance. Once you don't wear it, your bust will suffer from sports injuries. Below, let's first popularize the importance of sports underwear for everyone:
Women's breasts are glandular organs hanging on the pectoralis major, without the support of bones and muscles, and any movement of the chest during exercise will cause the chest to shake, causing the suspensory ligament to be stretched back and forth and tightened for a long time. It is easy to cause breast sagging. In this process, the chest and underwear are rubbing violently, and the most direct friction is that the chest will be traumatized.
When worn, the sports bra can transfer pressure from the sensitive shoulders and chest to the back and underarms for enhanced comfort during prolonged exercise. Therefore, it is really important for girls to customize suitable high-quality sports underwear!
1. Choose the size that suits you
Size is the first and most important step in choosing underwear. Size is very important, because if the size is too small, it will press the chest and cause adverse stimulation to the breast. If the size is too large, it will not be able to effectively fix the chest and will not be properly protection.
No matter what size your usual underwear is, before choosing sports bras, it is recommended to re-measure and choose according to the exact size and then refer to the adjacent size of daily underwear, for example: you usually wear a 75B bra, and you can try 70C or 80A on a sports bra of.
Tips: The specific measurement method is the value obtained by subtracting the lower bust from the upper bust to determine the corresponding cup; or go to the counter and ask a professional to measure the size for you.
2. Choose according to exercise intensity/type
There are corresponding bra options for three different intensity exercises:
(1) low-intensity exercise
Some moderate exercises that do not make the body appear unnatural can be considered low-intensity exercises. Such as walking, road cycling, billiards, etc.
(2) Moderate intensity exercise
Most proper gym exercises are moderate-intensity exercises. For example: Pilates, spinning, etc. In addition, golf, stair climbing, and ice skating also count.
(3) High-intensity exercise
Almost all sports that require both feet to leave the ground at the same time (sports that instantaneously leave the ground at the same time, such as running) and high-low-intensity intermittent cycles are high-intensity sports, such as gymnastics, running (regardless of speed or length), high-impact aerobic dance, tennis and other sports.
Choose according to the type of sports bra:
(1) V-belt buckle bra
This type of bra seems to be more suitable for girls with wide shoulders or A cups. Don't try anything above the B cup, because the strength of the chest is finally added to the two narrow shoulder straps, which will either wear the skin on the shoulders or wear them. Causes shoulder muscle soreness.
The benefit of this type of bra is that because of the adjustable shoulder straps and buckles, you can always find a suitable adjustment to bring the bust up, whether it is up or down or side to side to keep the bust more in place.
There may also be problems with buckles: plastic buckles and metal rings will rub against the skin during running over a certain distance. Daily running for more than 10 kilometers may break the skin, so it is recommended to wear this sports below 10 kilometers.
(2) V-shaped racerback swimming bra
This type of wide shoulder strap bra without a buckle is suitable for a much wider audience than the narrow shoulder strap bra with a buckle on the front. If you choose the right size, this type of bra can provide a moderate binding to the chest and widened shoulder straps. It can withstand the impact of running, and the one-piece V-shaped design can prevent the shoulder straps from sliding, which is the best choice for girls with plump, narrow or slippery shoulders.
(3) Independent cup bra
This type of independent cup bra is more suitable for plump girls, the chest is well fixed in the cup, and the shaking is minimized.
When choosing sports bras, in addition to the above factors, you should also pay attention to the following conditions:
Shoulder straps: Too tight will cause pressure on the skin on the top of the shoulders; too loose, the underwear will shift when the arm is raised, affecting the fixation effect.
Underwire: At present, most sports bras do not have underwire, and the biggest problem with underwire is that it may cause non-fitting or wear to the skin during exercise.
Material: Nylon and spandex. Most of these two types of sports underwear are very strong and not deformed, and have strong elasticity and shrinkage. They are very suitable for girls to wear when running and a lot of high-intensity sports.
If you want to buy high-quality sports bras at competitive prices, Hucai hcactivewear can tailor solutions about sports bras to your needs.
With excellent design and thoughtful service, we have quickly become one of the leading manufacturers of sportswear and yoga wear. We have an experienced production team and a strict quality inspection system. From product selection to design to export, we carry out strict quality control. At the same time, our effective solution technology and thoughtful one-stop service have won unanimous praise from many customers. If you want to buy our sports bra, Please contact us for more information.
Contact information:
E-mail: admin@hcsportswear.com
+8613602338395