How to Make Your Men's Sportswear Brand More Competitive?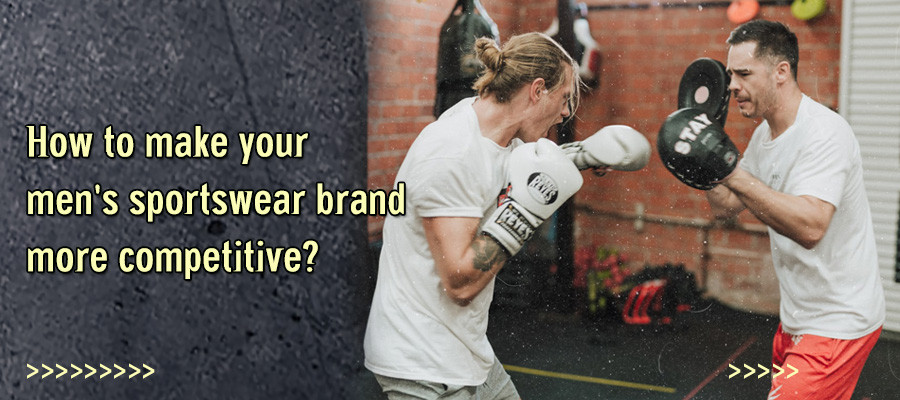 We all know that modern people are getting more and more fond of fitness sports, and the sportswear industry has grown up. Major brands are also scrambling to improve the competitive edge of their products. As a brand owner of men's sportswear, do you have a clear understanding of your peers? If you want to know how to make your men's sportswear more competitive, then you should read the following contents.
Customize your sportswear category
To be a highly competitive sports brand, your products should have unique design. Style is a very important point. There are three main categories of sportswear styles:
First, high impact sportswear, which has maximum support, flexibility, and comfort. Second, medium impact sportswear, most sportswear brands fall into this category, which has an average level of support and basic performance. Third, low-impact sportswear, which is suitable for doing yoga, Pilates and other casual sports. You have to choose the sportswear you want to build, and then incorporate the brand's philosophy to create a quality product that is exclusive to your brand.
Pay attention to the details of the product
In addition to choosing the product, you have to understand the design and manufacturing. There are many products on the market, so how do you get customers to look at your products? The answer lies in attention to detail. From the fabric to the finished product, you need to know the whole process. The finer details you design and the attention to detail you give to your garments will help make the product glow in the market.
Design a unique product line
With the wide range of sportswear available in the market, unique designs are the most important point to attract attention. Your brand should have a range of sportswear that you have designed yourself. This is because it represents originality, design, and a good label to build your brand.
Choosing the right sportswear manufacturer
There are countless sportswear manufacturers in the market, but there are bound to be some that are more professional and experienced. You can choose a manufacturer that accepts customization because often they can provide designs in addition to producing bulk products. You also have to have their delivery time, ability to source materials, MOQ product quality testing, etc. You need to consider their sustainability as a custom sportswear manufacturer.
There are many factors involved in the manufacture of sportswear. Therefore, it is crucial when choosing a manufacturer as a partner to customize your product.
Hucai hcactivewear is a professional sportswear manufacturer. Not only do we have advanced production facilities to guarantee the basic quality of your product, we also go through more than 4 tests during the process of sourcing fabric and processing and production to ensure that nothing goes wrong every step of the way. We also have our design team, so if you have a good idea or design, we can help you realize it according to your needs. we are willing to work with you to create a great brand that leads sports and fashion,Please contact us for more information
Contact information:
E-mail: admin@hcsportswear.com
+8613602338395