What Should I Look Out for When Looking For a Sportswear Manufacturer?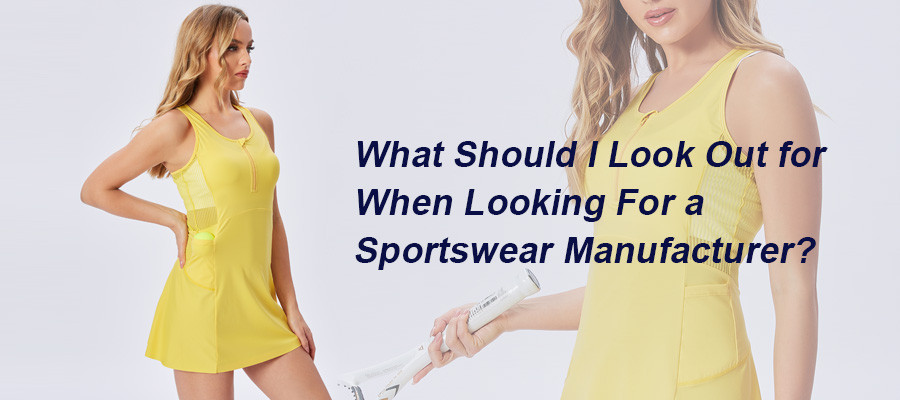 To keep up with the growing demand, many well-known brands are always on the lookout for good active wear manufacturers. Whether you want to be the next big sports brand or just want to profit from your sportswear business, this article will help you find the sportswear manufacturer that can take your business to the next level.
Expertise in Sportswear Manufacturing
Obviously, before you decide to deal with a supplier, you must first find the sportswear manufacturer's expertise in fitness apparel manufacturing. Not all apparel manufacturers are capable of producing every type of clothing, and sportswear is especially difficult to produce because it requires special fabrics and designs to withstand all the strenuous exercise while still ensuring comfort and durability.
A good custom sportswear supplier needs to be familiar with the behavior of the fabrics, the characteristics of printing and embroidery, the characteristics of all the craftsmanship, they can provide suggestions according to the customer's ideas and requirements and do their best. A way to balance creativity, efficiency and cost.
Background checks can be conducted through third-party inspection companies or past clients. You can also get more information by asking suppliers about their certifications, production procedures, and recommendations to see how well they understand a particular niche and the products you're interested in.
Production Capacity and Design Capacity
Service quality can be one of the biggest concerns for businesses working with active wear suppliers, especially for well-known apparel brands that are looking for active wear manufacturers to secure large orders. To ensure that your suppliers are capable of handling your high-volume orders, you should aim for suppliers who can produce the volume you need each month.
When looking for a sports apparel manufacturer, in addition to capacity, you also need to consider timely delivery. This is very important, especially if you are a big brand that requires your clothing to arrive on time in order to be guaranteed to be displayed and sold.
A good custom sportswear supplier will also provide our clients with market research and industry trends. It is very important for manufacturers to offer new fabrics, new styles, new designs, new technologies. Print and embed to inspire new ideas for our clients.
Also, since sportswear requires dexterous manufacturing, you need to check your supplier's current machines and production systems. You can also ask for some information about R&D plans and introduction of new products/materials/technologies. It is vital that sports apparel manufacturers have the technical ability to meet your specifications.
Reliable Customer Service
Customer service is often one of the most important factors overlooked.An experienced and reliable sportswear manufacturer must be able to provide some advice and tips for their clients' start-ups.
When looking for an active wear manufacturer, you need to ensure that the supplier is transparent about all basic due diligence such as production costs and capacity, shipping costs, lead times and additional costs.
In addition to this, you can seek support on designs, fabrics and select product samples. Advice and opinions can have a positive impact on the development of a project, therefore, customer-supported services are highly valued.
Also, while long-term cooperation is not mandatory, success is easier if both parties are committed to a healthy and stable relationship. This means that they should have a common goal or vision for the fitness apparel business project and be willing to work towards that goal.
Sustainable Production
When looking for an active wear manufacturer, you need to ensure that the factory produces the garments in a sustainable and ethically-lawful manner. Sustainability and ethics should not be just concepts or claims made in all aspects of production.
When looking for a manufacturer, you should not only ask for the appropriate certification, but also the use of environmentally friendly materials. Likewise, you can check your supplier's social responsibility by understanding the supplier's values and the working conditions under which workers work.
If you are looking for a sportswear manufacturer for your brand that caters to every aspect, then HUCAI is the perfect choice for you. We are a reputable supplier and can provide you with the highest quality service. If you need it, you can contact us.
We are a private brand wholesale sportswear China manufacturer. Not only has its own design team, but also an experienced pattern making team. Our design team has 20 years of experience in design and plate making. From design to sample completion, the speed will be faster and the quality is guaranteed. These are two very important points for brand owners. Too much time is wasted, greatly increasing and reducing the brand's inventory, and possibly even increasing the brand's own sales, which is better for brand and direct buyer loyalty.Please contact us for more information
Contact information:
E-mail: admin@hcsportswear.com
+8613602338395