How to Match Men's Fitness T-shirts?
How to Match Men's Fitness T-shirts?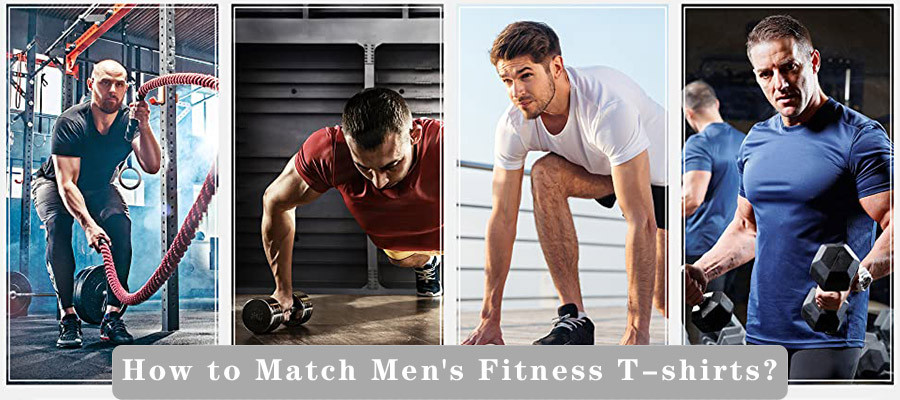 As the most versatile fashion item, men's fitness clothes are also indispensable clothing in the sports men's wardrobe. Hucai activewear has compiled the following fashion matching types for men's fitness T-shirts based on various surveys and studies.
T-Shirt & shorts
When it comes to sports wear, how can you miss the combination of the versatile classic T-shirt and shorts? When exercising, you should try to choose items such as comfortable, sweat-absorbing and breathable. It is comfortable and stylish for fitness, and can add exercise fun. But please don't wear oversize into the gym.
The ideal choice is to choose a tight-fitting T-shirt and match the color system to wear your personal characteristics, then become the focus of attention on the sports field. As for the matching of sports shoes, you can start with the color of your clothes or trousers, echoing up and down, showing the breath of fashion and vitality.
T-shirt & sweatpants
Exercising in the gym will consume a lot of calories, men often sweat like rain, so a sweat-absorbent and breathable T-shirt is definitely a suitable fashion item. Designers of major brands combine outdoor sports and fashion, with active and easy-to-stretch design principles, using comfortable and breathable materials with unique and neat tailoring.
Hucai has launched a variety of men's fitness T-shirt of different materials and styles for fitness men, so that you can become the focus of attention on the sports field. Low-key and not excessively exaggerated fitness clothing, coupled with strong muscle lines, is even more imaginative!
T-shirt & shorts & leggings
Through shorts and fitted elastic pants, simple wear can also create a three-dimensional and stylish layering. If you are dissatisfied with your height, you can choose knee-length shorts, paired with tight-fitting T-shirt, to create a visual hierarchy of the lower body, and to lengthen the proportions of the legs.
The unique nylon fabric fiber can effectively resist the invasion of cold wind, and the bright surface design of different materials makes your sports wear more fashionable and outstanding. When exercising outdoors, pair it with a highly elastic, sweat-absorbent and waterproof T-shirt, which can reduce external resistance during exercise and exude a bold and straightforward style of style.
If you want to get more fashion matching methods for men's fitness T-shirts, you can send us your needs, and we will give you a satisfactory feedback in time.
As an experienced activewear manufacturer, Hucai enjoys a high reputation in the industry with its excellent design capabilities and leading manufacturing technology. We are also equipped with flexible production lines and comprehensive one-stop services, which can bring users a good shopping experience. Our products are also sold all over the world, and it has always been Hucai's aim to meet the needs of users. If you want to buy our men's fitness t-shirt, please contact us immediately!
Contact information:
E-mail: admin@hcsportswear.com
+8613602338395