3 Tips For Choosing Wholesale Sport Shorts
3 Tips For Choosing Wholesale Sport Shorts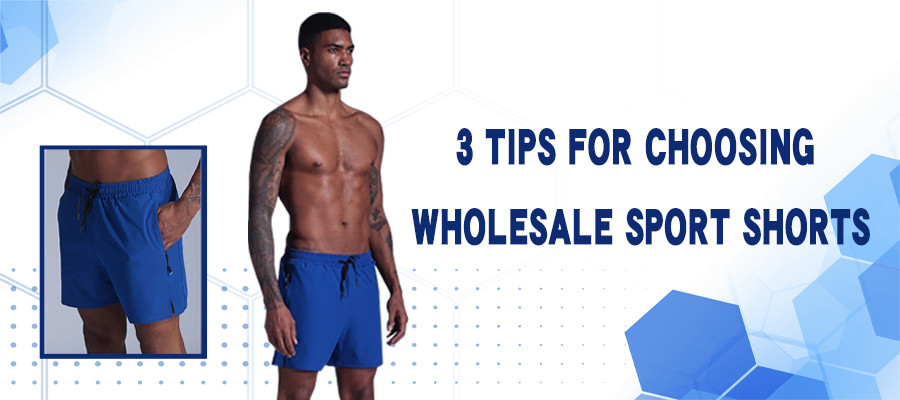 Sports shorts are the key to getting the best fitness and fun in summer or indoor sports. In order to keep you in a good state of exercise, sports shorts must be reasonably designed and have comfortable fabrics. Learn the skills of sport shorts wholesale by understanding the following News and avoid making mistakes.
Fabric
(1) No need to consider pure cotton material. Running for 5 minutes can help you absorb 1 kg of sweat. Whether it is breathability or comfort, it is very unqualified.
(2) Sports shorts are mostly made of synthetic materials (such as polyester and spandex, nylon, polyester and spandex, etc.), thin and breathable.
(3) Some sports shorts use woven fabrics. The transverse and longitudinal weaves make the fabric have better quick-drying, stiff and not easy to deform.
(4) If you run a lot, you can choose high-tech deodorant nano fabrics, which are more refreshing and more hygienic.
(5) Summary: The fabrics used should be breathable, moisture-wicking, and durable.
Tailoring
Generally speaking, there are two options for the length of running shorts:
One is the more common knee-length model, which can be worn for running or daily leisure;
The other is more professional running three-point shorts, which are about the same length as professional shorts. Shorts of this length are professionally worn on the court, but they are awkward to wear everyday.
How to choose depends on personal preference. In addition, the tailoring of running shorts also includes many other details:
(1) The small opening design on the trouser legs allows us more space to run, and there will be no shorts sticking to the legs, etc.
(2) The buttocks tailoring of shorts needs to take into account the physical characteristics of the athletes, and avoid embarrassing situations such as strangulation and inconsistent waist-to-hip ratio due to the lack of hip fabric
(3) Appropriate use of fluorescent materials for stitching can make runners safer when running at night without wearing other reflective materials
(4) The inner lining seam should adopt flat stitches, and use odor-resistant and wear-resistant high-elastic materials to avoid crotch friction, thigh friction, and lining curling.
The design of the trouser pocket
The trouser pocket design can be said to embody the essence of running shorts.
Common side pocket designs can no longer meet the needs of runners, because the items in the side pockets can easily slip out and fall during running.
The latest "Fart Pocket" design is even more acclaimed by runners. A 4*4cm zipper pocket has been added to the hip and waist position, which can conveniently put down the small objects carried by the runner. And no matter what stuff is plugged in this position, it will not affect the running of the legs.
Do you understand? If you are looking for sports shorts manufacturers, you can send your needs to us. Hucai hcactivewear strictly pays attention to the fabric and tailoring design to provide you with a perfect fit and silhouette. what are you waiting for?
Contact information:
E-mail: admin@hcsportswear.com
+8613602338395