How to Budget + Price List|Men's Sportswear
How to Budget + Price List|Men's Sportswear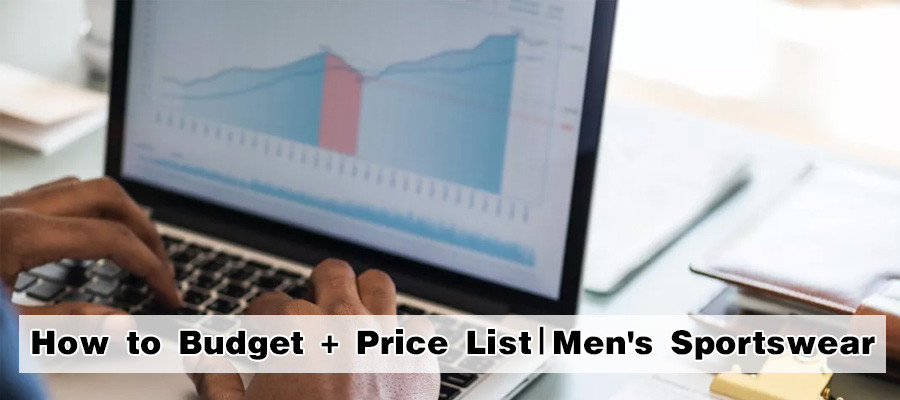 How much does it all cost? Price lists, sampling, wholesale/bulk, shipping, budgeting.
When you start creating a men's sports and fitness line, nothing is more important than knowing exactly how much it will cost to implement your product. So now that we've explored the different types of men's sportswear categories, how to create samples and bulk items, and the different ways to add fashion print elements, it's time to discuss how to budget accordingly.
There are two different budget considerations you will encounter when creating a men's sportswear line, with sampling costs and bulk/wholesale costs to consider.
I. What are sampling costs?
We offer two ways to order samples, one through our online catalog and the other using traditional manual custom design methods. You can choose from our wide range of off-the-shelf designs, develop your own custom design or a combination of both.
1.1 Our price tariffs are at the bottom of the page
PS: (All prices mentioned are in US dollars)
Here are HUCAI's sample charges: (excluding other process printing costs)
If you want a custom design, if your design is quite complex, if it uses a lot of fabric, or if you want to add special hardware, the price of your sample may be much higher than any off-the-shelf design sample we have to offer. In short, the simpler the design, the cheaper your samples will be. However, when your large order quantity exceeds 300 pieces, HUCAI will return your sample cost, which means you are getting this sample for free.
Overall, a sample is basically a one-time order that you can use to gauge your interest in a specific fabric, pattern, print or design.
1.2Private Label Custom Printing
If you are developing any prints to be used in your collection, like screen printing, embroidery, digital printing, ironing, etc. are Charge $10 in A4 paper size, please contact HUCAI for specific process requirements, for any print we will send you examples to view the scale so you can approve the color of the print.
II. What is the wholesale cost?
Consider that when you start selling men's sportswear, you will recoup some of your initial investment through profits. Ordering in bulk essentially means that you are ready to order a large number of men's sportswear products. When ordering in bulk, most of your associated costs will depend on the number of products you order, in addition to your design and the type of fabric you choose.
Don't forget to consider accessories, packaging and shipping - all of these will affect your budget and you need to take them into account before confirming your order!

III. Let's look at some examples
What actually looks complicated, but is actually a very simple matter, is the following example order that helps illustrate costs and budgets.
Suppose you want to develop 3 different designs for a new line of sportswear. You choose HUCAI to create your designs for you, and then you order the prototypes. Your budget is $500 and the idea is to customize two sports shorts and one sports t-shirt, if you want to add your own design logo on all three pieces, by screen printing, but actually, the total cost of the custom samples is currently $70+70+50+10*3=$220, plus shipping cost is about $35, and you have some money left over to purchase other samples.
As a sportswear supplier, we will determine your product needs and requirements by combining product categories and quantities, fabrics and processes, custom designs, shipping methods, etc. If you need more specific budget suggestions or have any other questions, please feel free to
contact us
and we'll be happy to help you!