How to Buy Samples - Men's Sportswear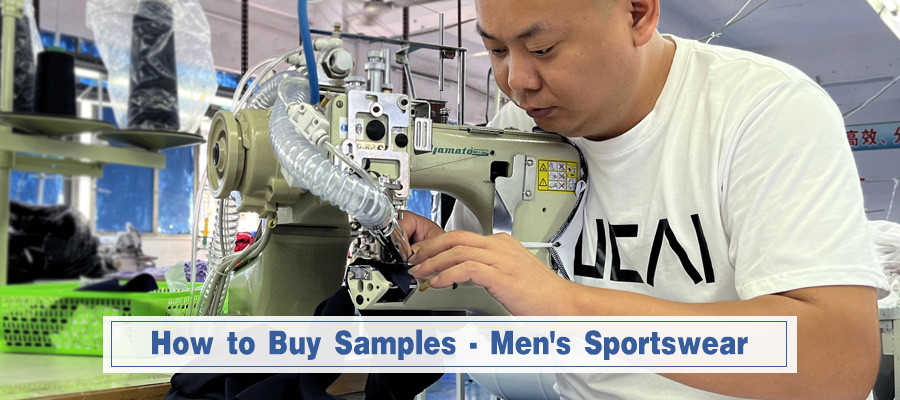 How to Buy Samples - Men's Sportswear
As a men's fashion sports brand side of you, I'm sure you know the importance of buying samples, so do you know the process of buying sportswear samples? If you are interested in HUCAI and can't wait to order samples to determine the size and quality, but don't know where to start, then I hope this article will tell you the next step.
1. Determine the details of the sample design. Choose the style you need from our catalog, and if you want to add some special requirements, just tell us the special requirements you need. Or if you are in need of custom service, then tell us your design samples, design sketches or reference samples. HUCAI's salesmen are professionally trained with extensive fabric knowledge and can recommend you the most suitable fabric and process, and they also have great understanding ability to understand your brand concept.
2.Sales staff double check the guest's product requirements and create sample order files in the tracking order system. HUCAI has a professional foreign trade order system that can combine business, design, and production staff to share information in the design, modification, and production process of the samples in the first place to prevent errors.
3. Order followers will send the order file to the sample supervisor and arrange to finish the sample within 12 days. This includes fabric ironing, cutting, crafting (such as printing, embroidery, screen printing, washing, digital printing, laminating, etc.), sewing (four needles and six threads, Hasselblad, hemming), product ironing, sizing check, etc. We also have five checks during this process, and after the final check is correct, our sample supervisor will do the final review.
4. After the sample is finished, the sample supervisor will hand over to the order taker. The order taker will check the samples again, take photos and send the photos to the salesman.
5. The salesman files the photos and then sends the package to the customer.
T-shirt and undershirt: about 50 USD, pants and shorts: about 70 USD, sweater and jacket: about 80 USD
(Not including the cost of your private label and special process, etc.) After customizing the sample, you can return the edition fee if you order more than 300 pieces of large goods.
The above is the sample development process of HUCAI. Of course, we may encounter various challenges in the middle, but we are a garment supplier with more than 20 years of production experience, and we can give timely feedback on any problems we encounter to ensure the smooth completion of the samples.
We hope that after reading this you will have some knowledge of the sample customization process, now is the peak time for sample development, if you still have any questions, please do not hesitate to contact us, we will answer your concerns!
Contact information:
INS:mens_activewear_hc
F
ACEBOOK
:
Hcmensactivewear Hucaiactivewear
E-mail: admin@hcsportswear.com
Whatsapp:+8613602338395