Why are Sweatshirts a Must-have in Every Man's Closet?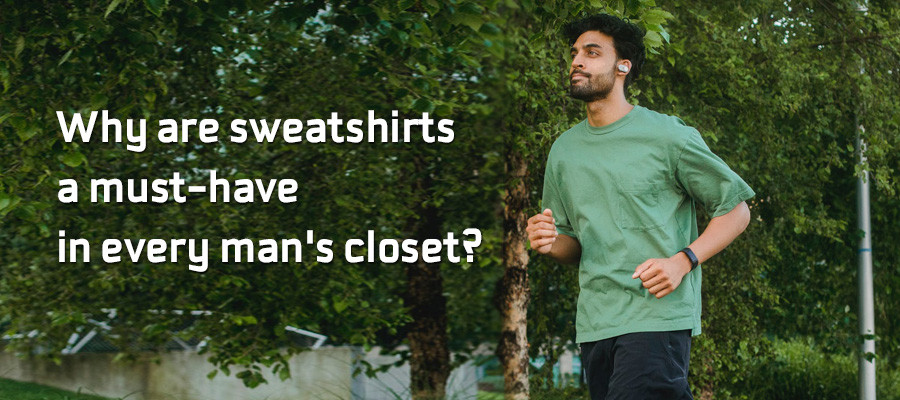 Every man has something in his closet. It can be a blazer, a casual t-shirt, a business shirt, or an accessory like a hat or tie. But every man must have a sweatshirt in his closet. Are you curious as to why this is the case?
Warm, comfortable and easy to care for, sweatshirts are something that many of us can't live without. For men, it is a good thing to have variety in dressing styles. Then sweatshirts offer you a good choice.
First, it's casual.
Unlike a suit, which has to be worn on formal occasions. In our daily life, most of the time is spent on casual occasions. For example, dinner, shopping, sports, dating, etc.. On these occasions we do not have to dress too formally, often the choice of clothes is on the comfortable side. The sweatshirt is very suitable for our daily life.
Secondly, it is very versatile.
Fashion is constantly being updated and developed. Each style of clothing has a period of popularity. It may be very popular for a certain period time, but after that time, people may not take it out and wear it again. Sportswear, on the other hand, is not only popular for a long time, but it is also very versatile. You can wear a pullover sweatshirt with jeans underneath; you can also wear a t-shirt with any pants. Using sweatshirts to add to your fashion sense is a very cool thing to do.
Thirdly, it is affordable.
Just because sportswear is generally loved by the public, sweatshirts of all prices can be found in major stores and clothing stores. Unlike suit sets, sweatshirts are not expensive, and you can afford to buy a good sweatshirt no matter what your income is.
Fourth, it is highly functional.
Sweatshirts can be made of any material to meet people's daily needs. No matter you are playing sports or dating your beloved one, it will not cause some unnecessary embarrassment when going out in stylish and comfortable clothes.
So, sweatshirts must be a must-have item in a man's closet.
If you want to get more information, you can send us your needs, and we will give you satisfactory feedback in time.
As an experienced sportswear manufacturer, Hucai hcactivewear provides OEM&ODM services, our advanced production equipment, and advanced production technology can create the best quality sportswear for your brand. We are also equipped with flexible production lines and perfect one-stop service, meeting the needs of our customers has always been our aim, which can bring you a good shopping experience. If you want to buy or customize products, Please contact us for more information
Contact information:
E-mail: admin@hcsportswear.com
+8613602338395