What Are the Selection Principles of Sports Vests?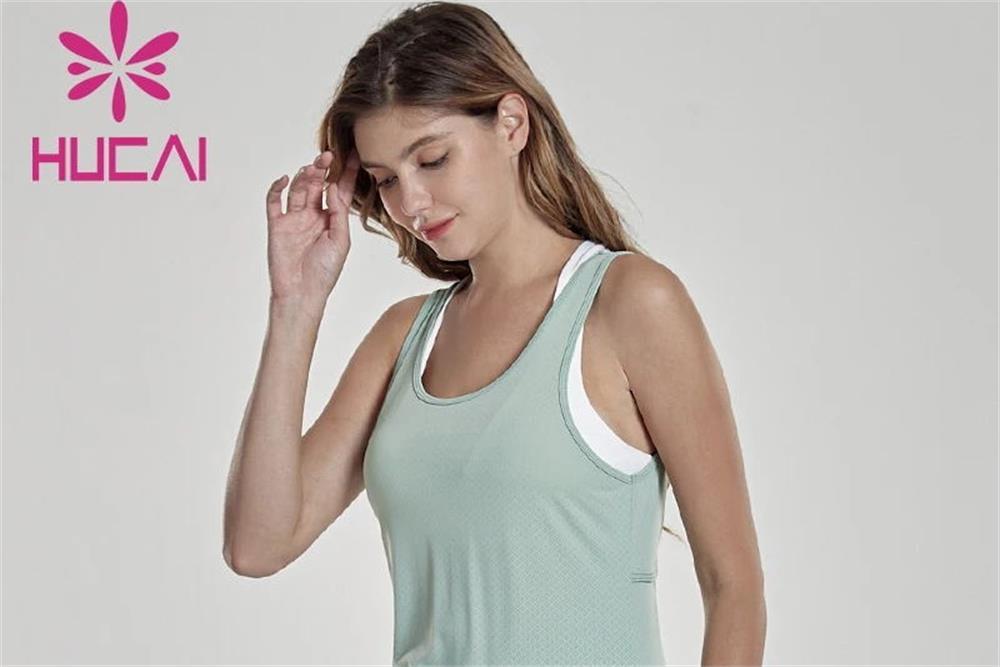 During exercise, the body has a large range of motion and sweats.
Sports vests
can fix body parts well and quickly wick away sweat. These are not available in ordinary vests. Everyone has different physical conditions, sports items, and amount of exercise. You cannot mechanically choose only a certain vest. HUCAI shared the following selection principles, hoping to be helpful to everyone.
1. Choose fabrics with good perspiration and breathability
Speaking of sports vests, many people think that cotton must be selected, but in fact, cotton vests absorb sweat but have poor perspiration-wicking properties. Considering the moisture-wicking needs of sports, we can choose some composite fabrics. For example, the fabric close to the skin can be a cotton knit structure, which is mainly for absorbing sweat, and the outer layer is polyester and other chemical fiber fabrics so that the sweat-wicking effect is better.
The sports vest is different from the daily vest, in order to keep the pores fresh and quickly wick away sweat, the inner lining, and back structure of the sports vest are mostly breathable mesh. The fabrics of ordinary vests are usually silk, cotton, spandex, nylon, and so on.
2. Try to choose a light-colored vest
Light-colored sports vests look sunny and positive, but one thing must not be forgotten. After sweating, light-colored sports vests sweat very obviously, especially in gray. Therefore, if you often sweat a lot during heavy exercise, remember not to choose light-colored sports vests such as white and gray. It is recommended to choose dark sports vests such as black and brown.
3. The shoulder strap width of the vest needs to be appropriate
If you are doing low-impact and medium-impact sports (such as hiking, yoga, skiing, golf, badminton, tennis, etc.), you can consider choosing a vest with slightly narrower shoulder straps; for high-impact sports such as running, horse riding, foot basket row, mountain biking, aerobics. It is recommended that you choose a hurdle vest type, which looks similar to the upper part of the hurdle vest, with a wide shoulder width, and will not feel pain after a long time.
4. The fixed webbing at the bottom of the vest should be wider
Many high-intensity sports vests are designed to have a very wide bottom circumference in order to provide better support during exercise. Therefore, you must buy a sports vest with a wide bottom for running.
In short, the choice of sports vests cannot be generalized. It is not only necessary to recommend simple models and brands. The choice should be based on the characteristics of the sports vest and its own situation. HUCAI can provide users with a variety of choices. Our sports vests use high-quality materials and reasonable tailoring designs. If you have a need for this, you can find out about it by searching for related products on our website.
HUCAI is an experienced
sportswear and yoga clothes
manufacturer. We have a flexible production line and strict quality inspection system, and we have a good reputation in the industry. From product selection, design to export, we carry out comprehensive quality control. At the same time, we can also provide comprehensive customized services and effective solutions to meet the different needs of users. If you are interested in our sports vests, please contact us immediately!